Bringing the Wild Norwegian Artic Cod Fish Collagen Peptide Nutrients to you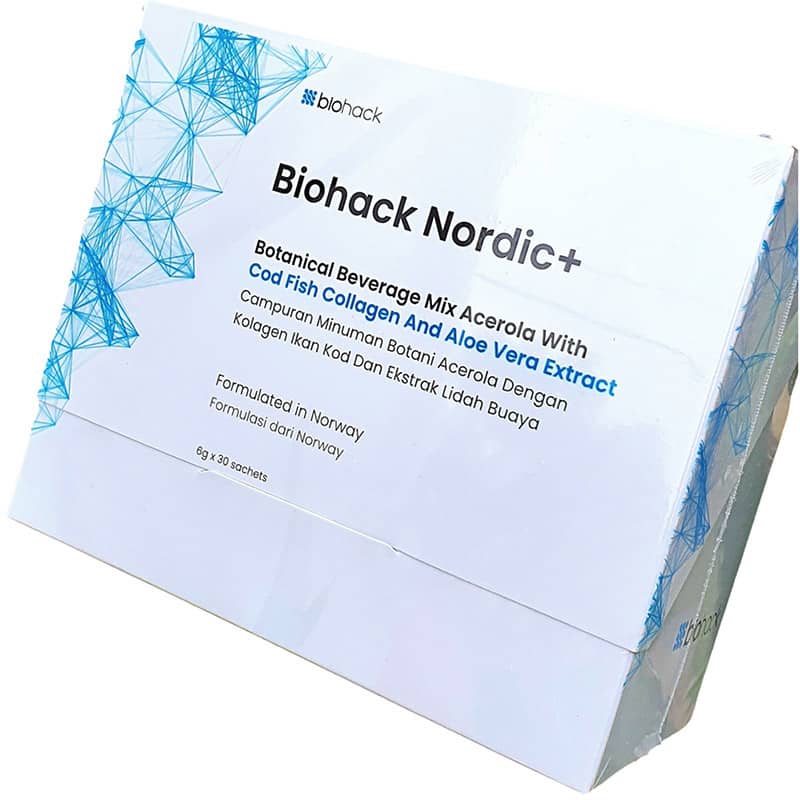 Ready-to-go daily serving of beauty in sachets. Replenish collagen, strengthen elasticity, boost hydration, rediscover glow, slow down fine lines and wrinkles. With a unique blend of clinically proven ingredients to make Ageless Possible.

Nordic+ is made of finest, branded ingredients:
Wild cod fish skin collagen
Aloe vera concentrate
Acerola for whole Vitamin C
A sachet of Nordic+ contains:
Collagen Peptide
Antioxidant
Vitamin C
Premium, 100% high purity ingredients
Wild Cod Fish skin
Aloe Vera concentrate
Acelora

A sachet of Nordic+ contains:
Collagen Peptide
Antioxidant
Vitamin C
Premium, 100% high purity ingredients
Wild Cod Fish skin
Aloe Vera concentrate
Acelora
The purest Norwegian collagen on the market. Type I collagen peptides from the skin of sustainably wild caught cod from the North Atlantic Ocean (Norwegian Sea & Barents Lake) via mild enzymatic hydrolisis.
High bioavailability and recycling with absorption proven to be 1.5 times better than bovine collagen. With smaller particle size (<=3kDA), the collagen peptides are absorbed faster and transported into the skin, bones and tendons for the synthesis of new collagen.
Tested for purity by third parties, GMO free, Halal certified, antibiotics or hormones free and gluten free.
10kg wild caught cod fish skin to produce 1kg of collagen.
Marine Collagen* led to a significant increase in skin moisture, showing an average improvement of 34.8% rising to 80.1% at the highest.
* Conducted by collagen ingredient manufacturer in 2017.
A clinical dermatological study with Dermatest, Germany
comprising women aged 40-55 using our marine
collagen daily for 8 weeks..

From 100% natural, no pesticide aloe vera plant with a unique blend of biologically active compounds of 20 minerals, 12 vitamins, amino acids, enzymes and phytonutrients.
Clinically proven for its potent antioxidant and antibacterial properties.
The only premium ingredient that guarantees no less than 10% polysaccharide retention through the unique patented process.
The product increases the most bioactive polysaccharides by 300% which is 3x the efficacy, benefits and performance of the native aloe vera.
200kg aloe vera to produce 1kg concentrate.
BIOHACK NORDIC+ EFFECTIVE VALUE
Increases skin elasticity and hydration
Increases water-absorbing capacity of the epidermis (outer layer skin) for water absorption and retention.
Improves smoothness and elasticity for dry, aging skin.
Reduces dryness, wrinkle depths and volume
Minimises the appearance of fine lines and deep wrinkles
Improves cellulite and eliminate stretch marks.
Suppresses UVB-induced skin damage and photo-aging.
Maintains musculoskeletal health
Increase in Bone Density Mineral
Gains more muscle mass and strength
Reduces overall joints pain and improve joint stiffness.
Powerful antioxidant, anti-inflammatory, antibacterial properties (from aloe vera)
Boosts immune system, reduce inflammation caused due to oxidative damage.
Aids digestive health
Whole vitamin C for effective stimulation of collagen synthesis and antioxidant.
Each serving of BIOHACK Nordic + is powered by:
5,000mg of hydrolysed collagen peptides
20,000mg equivalent aloe vera gel
Acerola
4.8g protein, 0.5g carbohydrate, 0.0g fat

Nordic+ has halal certification from JAKIM and its Ingredients are halal certified from its country of origin.
Allergen: Contains fish.